Victor Music Arts – SHE'S
Victor Music Arts – SHE'S
ENTERTAINMENT
The world's first multi-angle stream that will forever change live music performances! Multi-angle stream of live video recorded by fans via SwipeVideo.
User Generated Content (UGC) – SHE'S and their fans will change the way music videos are made forever!
AMATELUS Co., Ltd., (headquartered in Shibuya-ku, Tokyo; hereinafter "AMATELUS"), a developer and provider of "SwipeVideo," a system that enables the shooting and streaming of free-viewpoint and multi-angle video, has announced that SHE'S, a piano rock band from Osaka, will hold a UGC event "SHE'S UNITED" in conjunction with their upcoming tour this fall. The live performance video from the first day of the tour at Zepp Osaka Bayside will be distributed via SwipeVideo from "SHE'S UNION Tour 2022" to be held this fall.
The world's first multi-angle stream of a live music concert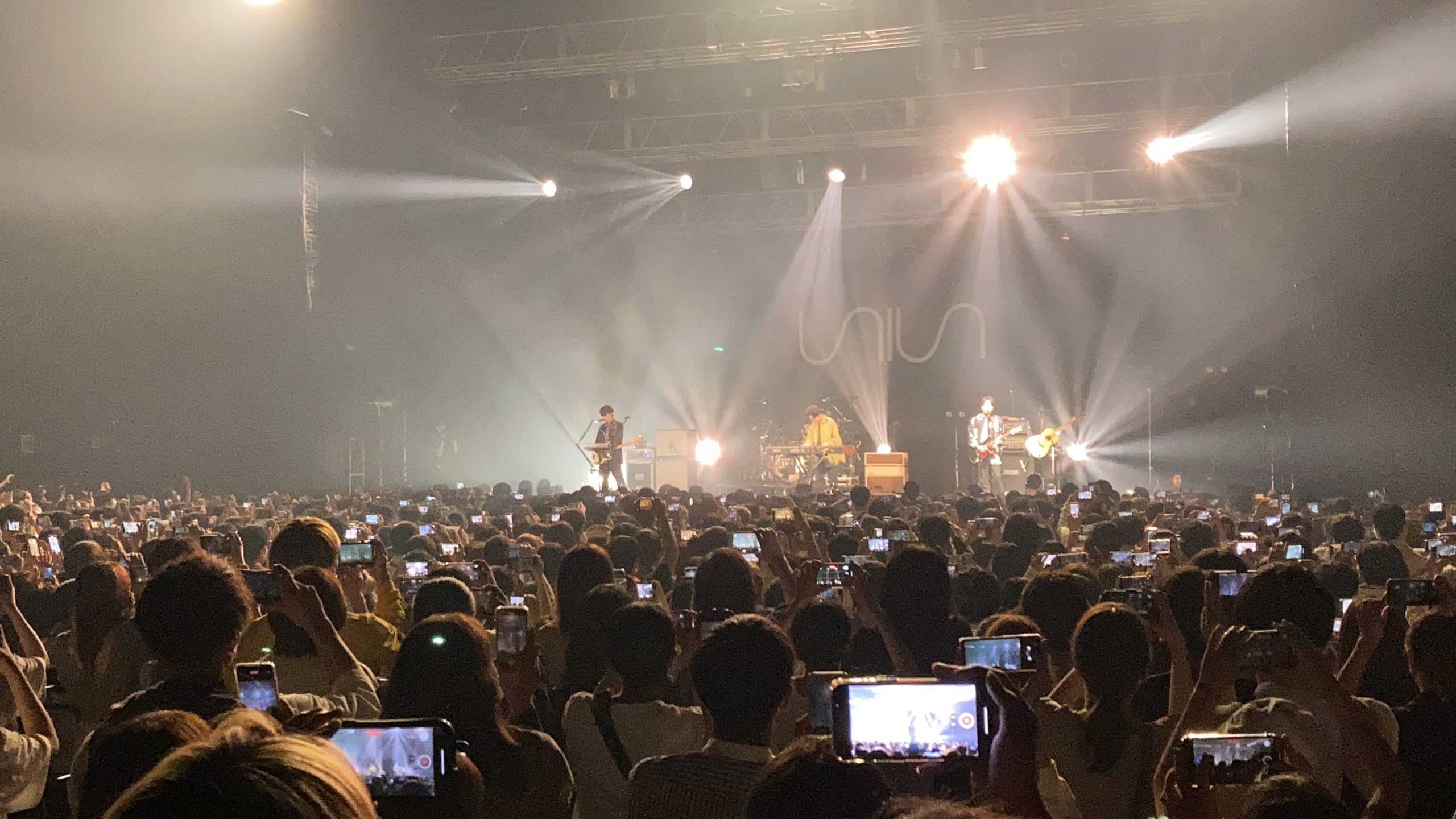 ◆SHE'S will be the first band in the world to offer multi-angle streaming of live music performances via SwipeVideo.
Stream Contents
1) Multi-angle delivery with a total of 16 angles.
Viewers can switch freely between all available angles.
2) Each member's "Member Cam" angles.
Viewers can freely switch between angles to watch the "Member Cam" (Oshi-kame), which follows each member.
(3) Live music streaming with three types of sound sources (audio can be switched).
There are two types of sound sources available: a normal audio mix and a special mix that simulates the sound environment of the venue, and the audio can be switched for each angle.
(4) Video footage filmed by fans will also be available.
The 16 angles include footage shot by fans who attended the event.
You can enjoy real footage filmed by the audience and enjoy the performance from the fans' point of view.
What is UGC?
UGC stands for user-generated content, a generic term for works (media content) produced and offered by production consumers, where consumers are the producers.
Restrictions on smartphone photography at music gigs are loose in other countries but strict in Japan.
Under such circumstances, an increasing number of artists in Japan have announced that filming is allowed only for some songs.
This is a groundbreaking and challenging project in which all fans are allowed to take pictures of only one song from the first day of "SHE'S UNION Tour 2022" in Osaka, and the images taken by some fans will be used as part of the multi-angle video to be streamed.
The winners will be selected from the fans who plan to attend the event in advance, and the footage taken by the selected few fans will be used as a part of the multi-angle video.
(All fans will have permission to film, but only the winners will be included in the multi-angle video).
The fans (winners) who filmed the video were extremely pleased with the results, and we hope that this stream will lead to good results for both the artists and the fans, and for future music concerts.
The live stream will be available for repeated viewing during the archive period, so please enjoy the contents, where you will encounter new angles and discoveries every time you watch it with special sound and images.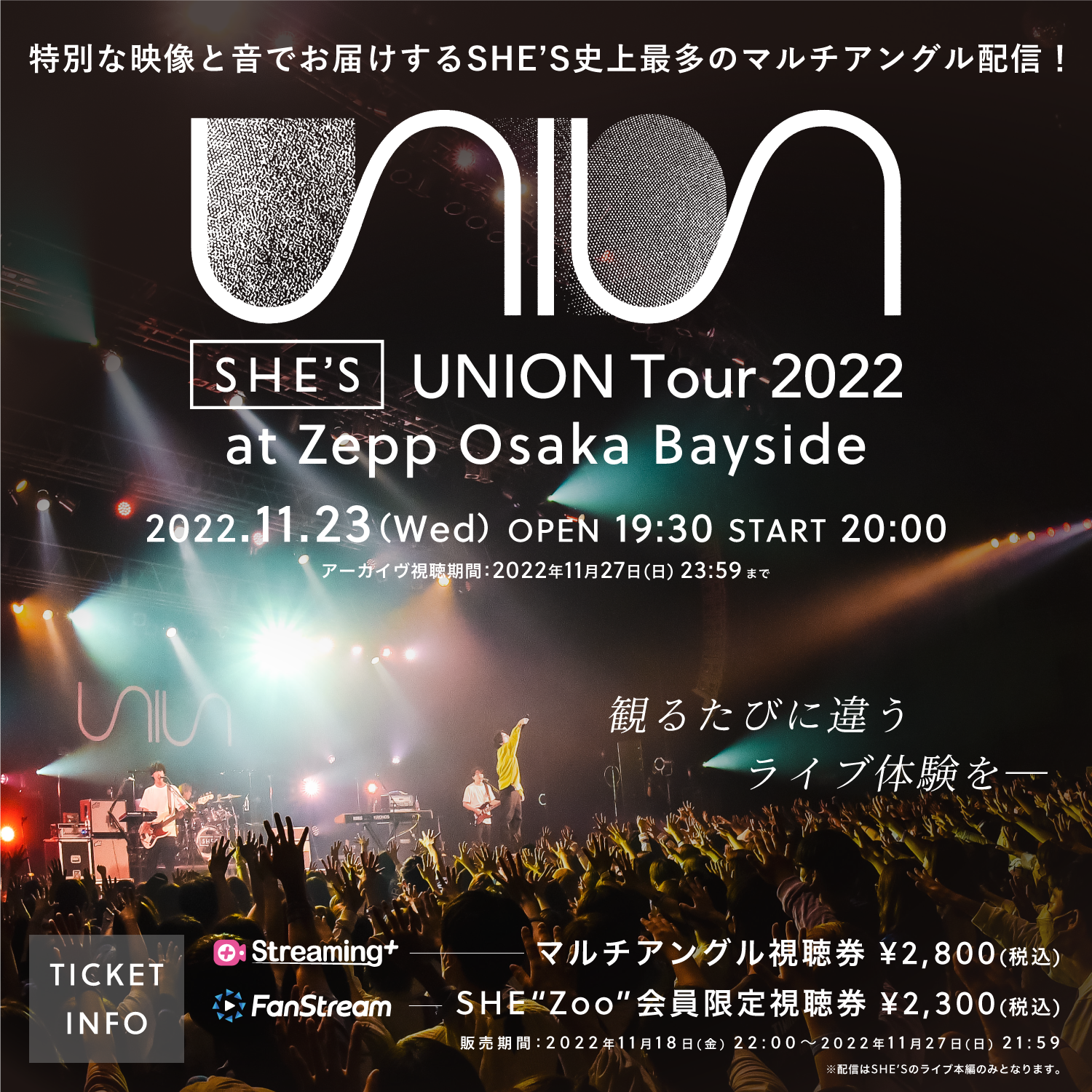 Distribution Information
Multi-angle live stream
SHE'S UNION Tour 2022″ at Zepp Osaka Bayside
<Date and time of live streaming>
November 23, 2022 (Wed., national holiday) 20:00~
<Archive streaming>
Till November 27 (Sun.) 23:59
Three types of audio mixes are assigned to each angle. When you switch angles, the audio will change at the same time.
*Video footage taken by visitors will be distributed only for some of the songs.
*Only the full-length live performance of SHE'S will be available for video distribution.
<Fee>
Streaming+ multi-angle viewing ticket: ¥2,800 (tax included)
Click here to purchase: ▶︎https://eplus.jp/she-s/st/
Fanstream SHE "Zoo" members only ticket: ¥2,300 (tax included)
Click here to purchase: ▶︎ https://tixplus.jp/feature/she-s_stpass_202211/
*You need to register as a member of the official FC "SHE "Zoo" in order to purchase tickets.
<Sale period>
November 18, 2022 (Fri.) 22:00 – November 27, 2022 (Sun.) 21:59
System usage fee will be charged separately at the time of ticket purchase.
国際特許(取得済み)を各国へ申請
日本

米国

カナダ

EU

イギリス

インド

オーストラリア

中国

韓国

イスラエル

インドネシア

ブラジル

南アフリカ

タイ
SwipeVideoは5G環境下でも配信が難しいとされている「自由視点映像映」や「マルチアングル映像」を4G環境下であってもブラウザ上で配信や再生(視点切替視聴)が可能な世界初の特許技術です。
5G環境下で更なる映像体験価値向上に対する取組も行なっています。