SBC Dream Tennis Tour TBS
SBC Dream Tennis Tour TBS
SPORTS
SBC Dream Tennis Tour 2022, a newly established tennis tour in Japan, was streamed live using free viewpoints and multiple angles the TBS Sports website using "SwipeVideo."
Shonan Aesthetic Clinic Presents SBC Dream Tennis Tour (abbreviated as SBC Dream Tour) started in June 2022, with the aim of "providing Japanese tennis players with new opportunities and a world of dreams."
After the second stage in August, the tour finals were held on December 10 and 11 at the Ariake Colosseum and indoor courts.
The preliminary league matches were streamed live from multiple angles using SwipeVideo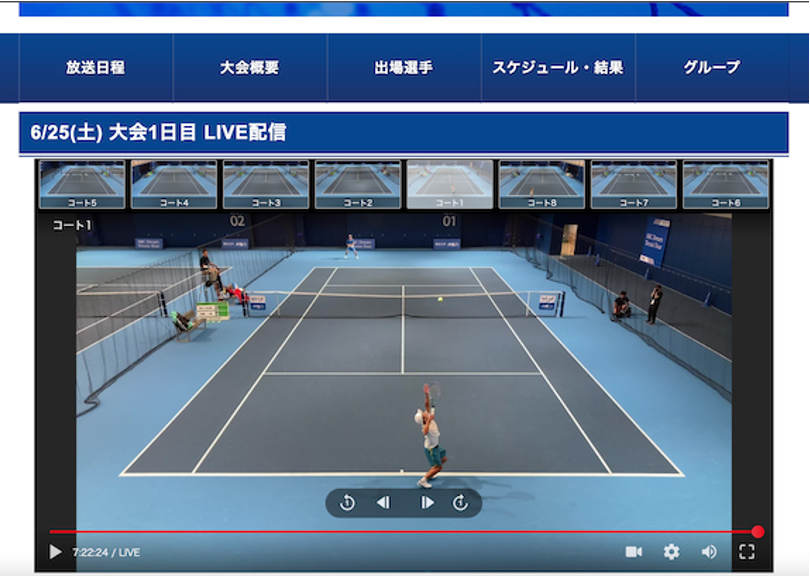 Viewers can freely switch between matches that are being played simultaneously on eight courts, and select their favorite court to watch.
(When switching video, the video switches instantly with no buffering, and the audio for each angle is also switched.)
SwipeVideo was embedded and streamed on the TBS Sports web page.
Introductory videos of the players were filmed using free viewpoint technology
SwipeVideo is now embedded and available on the TBS Sports web page.
国際特許(取得済み)を各国へ申請
日本

米国

カナダ

EU

イギリス

インド

オーストラリア

中国

韓国

イスラエル

インドネシア

ブラジル

南アフリカ

タイ
SwipeVideoは5G環境下でも配信が難しいとされている「自由視点映像映」や「マルチアングル映像」を4G環境下であってもブラウザ上で配信や再生(視点切替視聴)が可能な世界初の特許技術です。
5G環境下で更なる映像体験価値向上に対する取組も行なっています。