MUSIC CITY TENJIN 2020 ONLINE 5G Smartphone Free Viewpoint Video Live Streaming
MUSIC CITY TENJIN 2020 ONLINE 5G Smartphone Free Viewpoint Video Live Streaming
ENTERTAINMENT
Using NTT DOCOMO's 5G and AMATELUS' "SwipeVideo", Music City Tenjin (MCT) provided "live free viewpoint video."
Music City Tenjin 2020, an annual music festival held in Fukuoka Tenjin, was the first online distribution of the festival due to COVID19, and SwipeVideo was used to add value to the online distribution in the form of live (real-time) free viewpoint video distribution.
Live Free Viewpoint Video Streaming with 5G Smartphones
With the artist as the subject of the video, multiple 5G smartphones were used to capture images, which were then linked to "SwipeVideo" for live video streaming to viewers. Viewers do not require a dedicated viewing application; they simply access the event's web page and can freely switch viewpoints by swiping on their smartphones whilst watching the video. This is the first attempt of its kind for an online music event, and is intended to create a new viewing experience by catering to the individual needs of each viewer.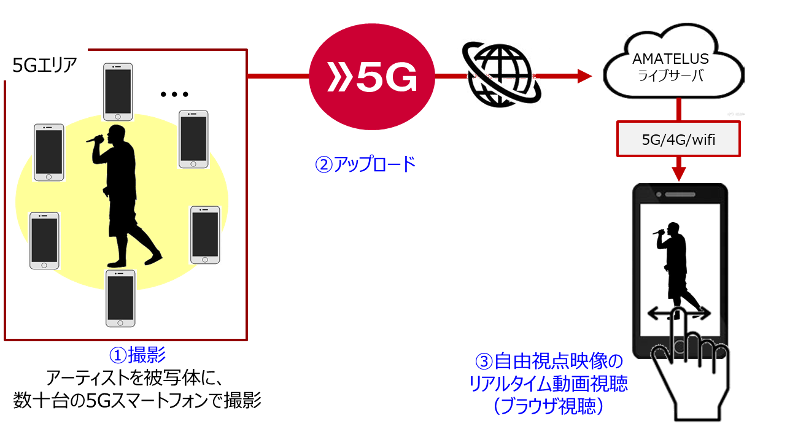 国際特許(取得済み)を各国へ申請
日本

米国

カナダ

EU

イギリス

インド

オーストラリア

中国

韓国

イスラエル

インドネシア

ブラジル

南アフリカ

タイ
SwipeVideoは5G環境下でも配信が難しいとされている「自由視点映像映」や「マルチアングル映像」を4G環境下であってもブラウザ上で配信や再生(視点切替視聴)が可能な世界初の特許技術です。
5G環境下で更なる映像体験価値向上に対する取組も行なっています。