Fireworks Stream
Fireworks Stream
EVENT
(Headquarters: Shibuya-ku, Tokyo; CEO: Shinya Shimojo; hereinafter "AMATELUS") is pleased to announce the free stream of its free viewpoint video solution SwipeVideo (internationally patented) for a limited time to express its gratitude to all those who supported people afflicted by the Corona Disaster. We streamed free of charge for a limited period of time.
We have made the multi-angle video of fireworks free of charge with the cooperation of related companies, so that everyone can enjoy the powerful and exhilarating multi-angle images of fireworks, including medical professionals who work hard every day during the COVID crisis, people who provide  infrastructure support for daily life, and people who under lockdown.
The world's first SwipeVideo Fireworks multi-angle stream!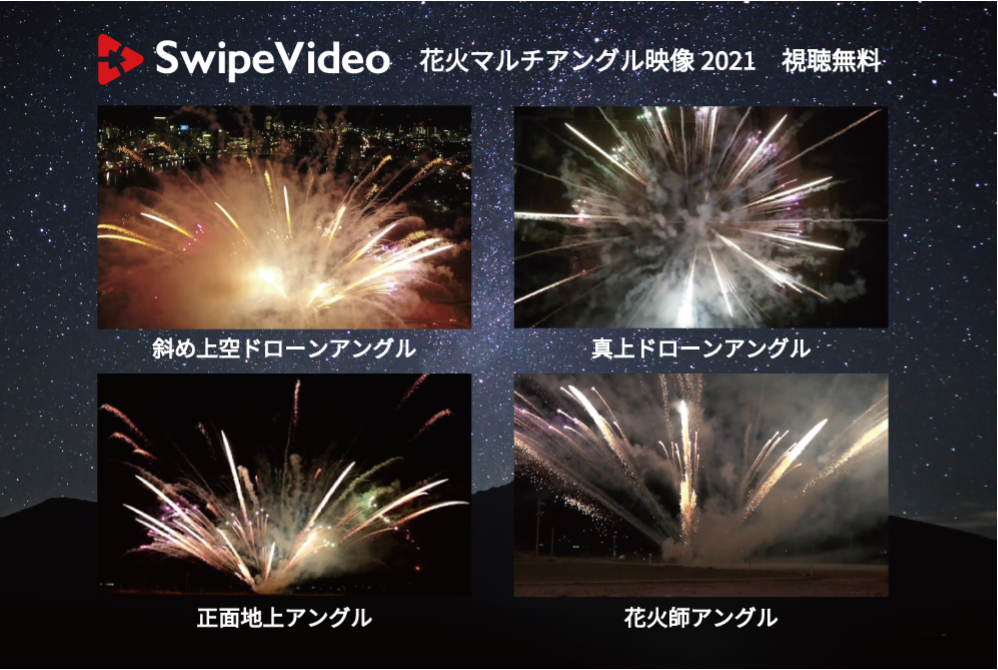 ◆Streaming Details
Distribution period: Friday, August 13, 2021 – Sunday, August 22, 2021
Content: Fireworks video
Number of angles: 5 angles (2 drones, 3 on the ground)
Viewing fee: Free
Planning cooperation: San-in Chuo Television Broadcasting Co.,
Chugoku Branch Office Shimane Branch, NTT DoCoMo, Inc.
Launch cooperation: Haiji Kaikan Fireworks
Filming cooperation: TSK Enterprise Corporation, U1 create, WANDERMUST, SWIFT Co.
国際特許(取得済み)を各国へ申請
日本

米国

カナダ

EU

イギリス

インド

オーストラリア

中国

韓国

イスラエル

インドネシア

ブラジル

南アフリカ

タイ
SwipeVideoは5G環境下でも配信が難しいとされている「自由視点映像映」や「マルチアングル映像」を4G環境下であってもブラウザ上で配信や再生(視点切替視聴)が可能な世界初の特許技術です。
5G環境下で更なる映像体験価値向上に対する取組も行なっています。