Batten Girls (ばってん少女隊)
Batten Girls (ばってん少女隊)
ENTERTAINMENT
The Kyushu-based idol group "Batten Girls" (Batten Shojo-tai) held a "BARIKATA PRIDE" release commemorative online live on Sunday, June 13.
The Batten Girls performed in collaboration with SwipeVideo and NTT Docomo's 5G network, and live-streamed the event with 'Oshi-angles' (angles focused on specific members of the group).
Archive streaming is available until June 30 (Japanese site only)
【 見返し配信チケット】6/13(日):5Gを活用した「自由視点リアルタイムライブ」
Ticket sales period
June 14, 2021 (Mon) 19:00 – June 29, 2021 (Tue) 23:59
Review Distribution Period
June 14, 2021 (Monday) 19:15 – June 30, 2021 (Wednesday) 23:59
20 5G smartphones capture and stream "Oshi Camera"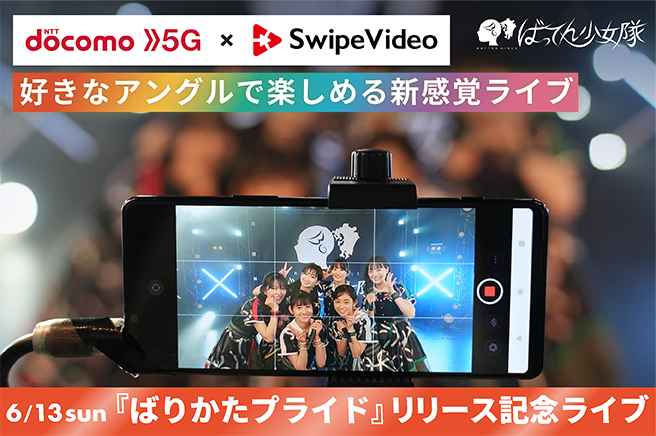 The entertainment industry has been hit hard by the recent spread of COVID19.
While all artists were forced to refrain from or postpone live music performances, as they had done before the coronavirus, the Batten Girls filmed and distributed their live performance using 20 5G smartphones, utilizing SwipeVideo and NTT Docomo's 5G network. This was the first ever pay-per-view live free viewpoint video event streamed using 5G.
国際特許(取得済み)を各国へ申請
日本

米国

カナダ

EU

イギリス

インド

オーストラリア

中国

韓国

イスラエル

インドネシア

ブラジル

南アフリカ

タイ
SwipeVideoは5G環境下でも配信が難しいとされている「自由視点映像映」や「マルチアングル映像」を4G環境下であってもブラウザ上で配信や再生(視点切替視聴)が可能な世界初の特許技術です。
5G環境下で更なる映像体験価値向上に対する取組も行なっています。