Aqua World Ibaraki Oarai Aquarium
Aqua World Ibaraki Oarai Aquarium
EVENT
(Headquarters: Shibuya-ku, Tokyo; CEO: Shinya Shimojo; hereinafter "AMATELUS"), in cooperation with Aquaworld Ibaraki Oarai Aquarium (hereinafter "Aquaworld Oarai"), has started paid stream of popular aquarium contents such as marine fish and animals via SwipeVideo (international patented technology). Aquaworld Oarai will celebrate its 20th anniversary in March 2022, and under the vision of "New World of the Sea," Aquaworld Oarai will provide visitors and fans with new Aquaworld attractions and ways to enjoy the aquarium in the age of COVID19.
The world's first SwipeVideo aquarium multi-angle video stream!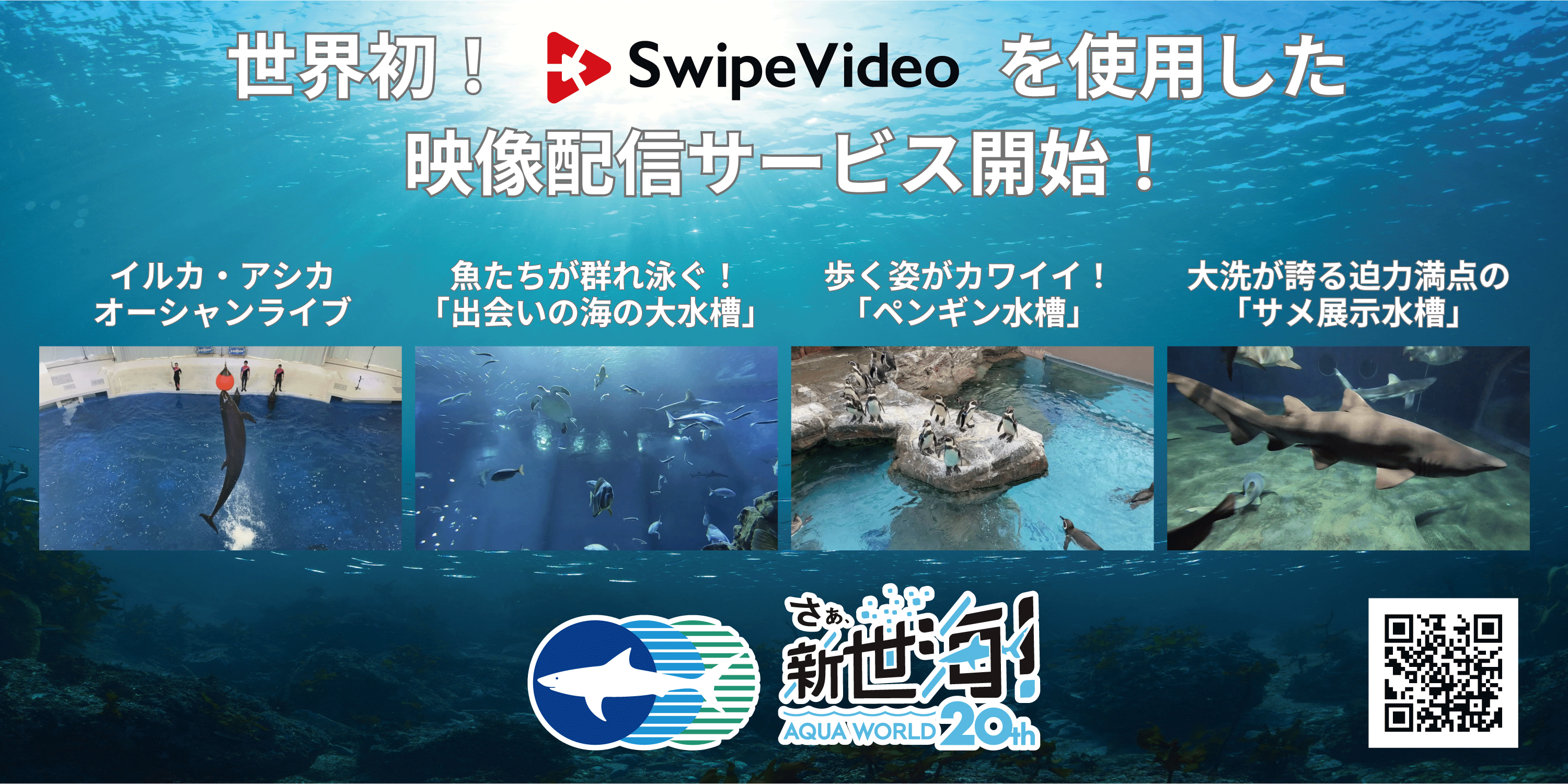 This project features popular content such as Dolphin & Sea Lion Ocean Live, a large tank with 15,000 sardines, and a shark exhibit tank with the largest number of species bred and exhibited in Japan, distributed via SwipeVideo as a paid service. Viewers can enjoy up to 20 different angles of images, such as dolphins jumping from directly above the pool, penguins feeding from underwater, and sharks at close range, by freely switching viewpoints.
◆Streaming Details
Distribution period: October 11 (Monday) to October 31 (Sunday), 2021
Contents: 4 contents (total 30 minutes): Dolphins & Sharks Ocean Live, Large Tank, Shark Exhibit Tank, and Penguin Tank
Viewing fee: 600 yen (tax included) *60-minute viewing ticket
Distribution PF site: SwipeVideo-Commerce
Find your favorite moment! #MYBESTANGLE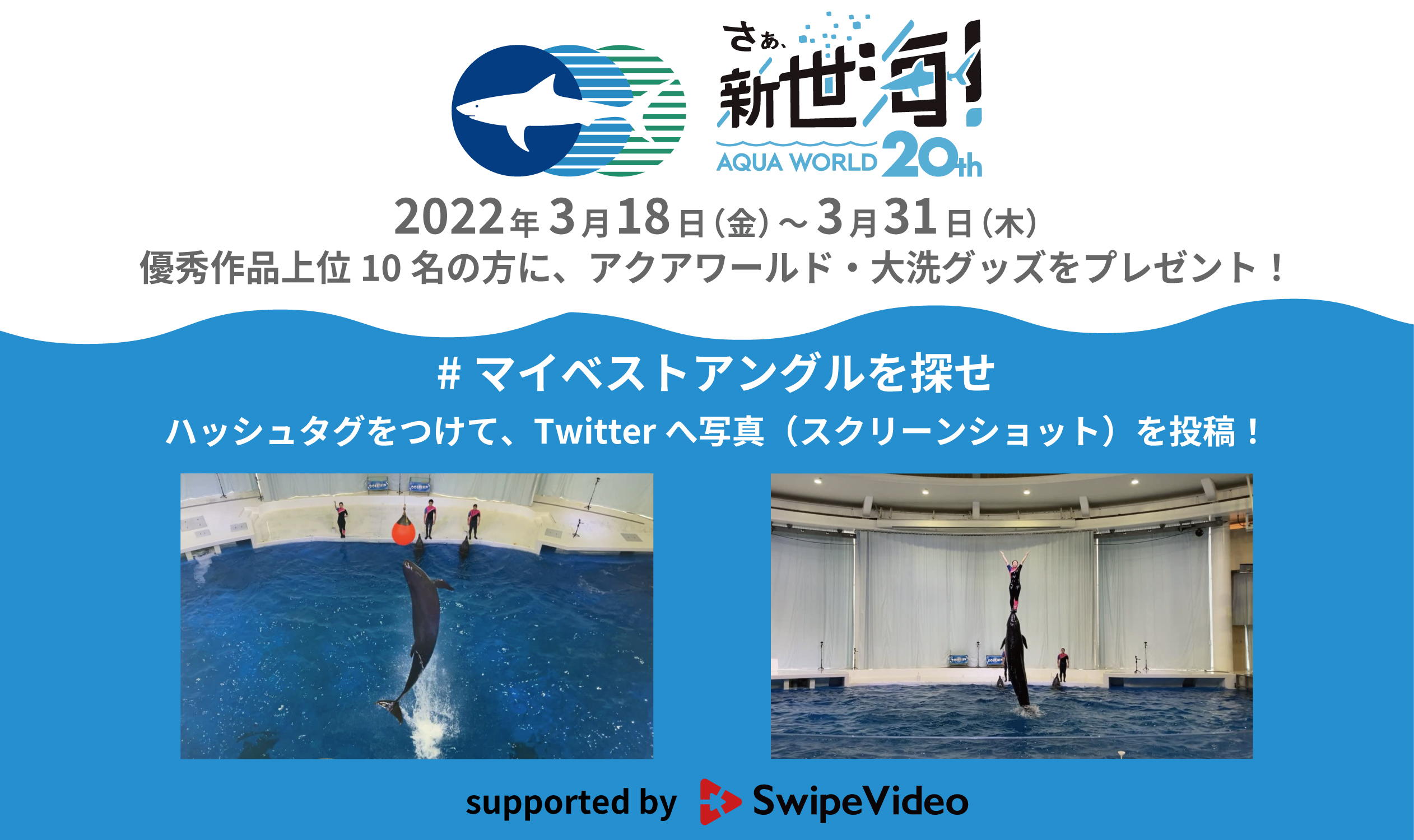 SwipeVideo footage of "Dolphins and Sea Lions Ocean Live" with 20 cameras, which was distributed for a fee in the fall of 2021, will be distributed free of charge for a limited time as a commemorative content for the museum's 20th anniversary. Viewers can screen-capture their favorite moments and post their photos to Twitter with the hashtag "#MyBestAngle." The best entries will be presented with Aqua World Oarai goods.
◆Streaming Details
Distribution period: Friday, March 18, 2022 – Thursday, March 31, 2022
Content: Dolphins and sea lions Ocean Live
Number of angles: 20 angles (2 above, 15 around, 3 underwater)
Viewing fee: Free
Linked project: Twitter hashtag campaign #MyBestAngle
国際特許(取得済み)を各国へ申請
日本

米国

カナダ

EU

イギリス

インド

オーストラリア

中国

韓国

イスラエル

インドネシア

ブラジル

南アフリカ

タイ
SwipeVideoは5G環境下でも配信が難しいとされている「自由視点映像映」や「マルチアングル映像」を4G環境下であってもブラウザ上で配信や再生(視点切替視聴)が可能な世界初の特許技術です。
5G環境下で更なる映像体験価値向上に対する取組も行なっています。